One-day Conference: Sydney, May 2023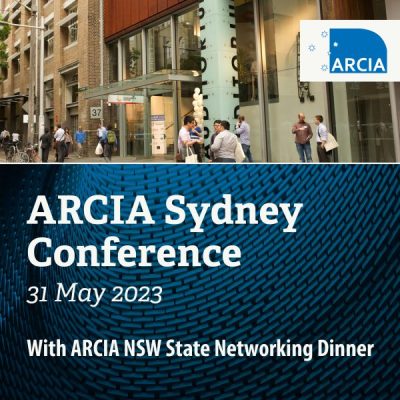 Book your seats for the Sydney conference and NSW State Networking Dinner!
Sydney, it's your turn! ARCIA brings the critical communications community together again for a one-day Conference and Networking Dinner in Sydney on Wednesday, 31st May 2023. 
The Sydney conference is held at the NSW Teachers Federation Conference Centre and features a half-day workshop running alongside a jam-packed conference stream of shorter presentations.* Post-conference, is the NSW State Networking Dinner at Pier One, Sydney Harbour, where the NSW Professional of the Year Award winner will be announced.
Due to venue capacity, numbers are strictly limited. Avoid disappointment and book today >>
**NOTE: Dinner bookings close 24 May 2023.**
---
---
Sydney Programme
Half-day workshop | 9:00 am-12:30 pm
Conference stream | 9:00 am-5:30 pm
---
---
Half-day workshop | 9:00 am-12:30 pm
Workshop: Radio spectrum management—what's trending in 2023?

Presented by: Andrew May | Executive Manager, Spectrum Engineering Australia and Peter Hilly | Director, Spectrum Engineering Australia
This half-day workshop will include a range of topics covering various facets of the licensing of radio communications services, including land mobile, fixed links, satellite and wireless broadband. It will also provide an update on the ACMA's regulatory arrangements.
This workshop will be of interest to anyone involved in the planning and licensing of radio systems in Australia, and in particular, anyone having responsibilities for the management of the radio licences needed for the operation of their networks.
---
---
Conference stream | 9:00 am-5:30 pm
Hybrid LMR/LTE devices bring new life to the LMR market | 9:00 am-9:30 am
Presented by: Hamish Duff | Managing Director, Mastercom and President ARCIA
This session will look at how new devices allow users to get the best of both LMR and LTE networks to achieve benefits beyond voice.
———————————————————————————————————————————-
LTE Network security for private networks | 9:30 am-10:00 am
Presented by: Simon Lardner | Co-Founder, Challenge Networks
Private mobile (4G/5G) networks are becoming prevalent in the command and control of critical industrial devices and public safety solutions.  As such, the security of systems is becoming a critical design and operational consideration.
This presentation discusses some of the key security considerations both in the design and operation of such networks.  It also discusses how security for private networks compared to consumer networks needs to be approached quite differently. This high-level, relatively non-technical presentation is designed for those who already have or are planning to build a private LTE and wish to understand the key considerations and features associated with security.
———————————————————————————————————————————-
P25: Still relevant after 30 years? | 10:00 am-10:30 am
Presented by: Dr Paul Elmes | Managing Director (Asia Pacific), Tait Communications
An objective view of the P25 standard for digital communications. A mature standard by any measure, P25 has become a good case study in user driven standards development and multi-vendor interoperability. The P25 standard continues to evolve and users continue to invest in P25 solutions to meet their current and future communications needs.
This presentation will consider how the standard has evolved over the past three decades—with specific reference to major milestones in Australia and New Zealand.  It will also touch on the growing demand by end users for interoperability with LTE.
———————————————————————————————————————————-
Accelerating Public Safety Mobile Broadband (PSMB) capability for emergency services | 11:00 am-11:30 am
Presented by: James Pickens | Chief Digital and Technology Officer,  NSW Telco Authority
It is of paramount importance to accelerate Public Safety Mobile Broadband (PSMB) to provide emergency services with access to high-speed mobile voice and data services and improve responses to critical incidents.
James Pickens, Chief Digital and Technology Officer of NSW Telco Authority (NSWTA) will talk about the work being done towards a national, interoperable PSMB framework as well as the development of PSMB capability in NSW.
———————————————————————————————————————————-
The Connected Firefighter—Critical communications capability for the 21st century firefighter | 11:30 am-12:00 noon
Presented by: Matthew Wormald | Operational Communications Leader, Fire and Rescue NSW
For decades, voice communications have been considered as the 'critical communications' required for effective operations in Fire and Rescue NSW (FRNSW). With the increasing demands for data, perceptions and expectations towards critical communications are changing.
FRNSW has embarked on an extensive Connected Firefighter program of works—to uplift and enhance critical communications across the organisation to provide connectivity to firefighters on the frontline anywhere, anytime. This presentation will outline the program of works, the operational benefits and the future landscape.
———————————————————————————————————————————-
How PSMB adoption in Australia presents both Government & Industry opportunities for vendor and application diversity | 12 noon-12:30 pm
Presented by: David Deacon | CEO, Etherstack plc and Khalil Habash | Account Director, Nokia Australia
Traditional multi-agency public safety radio networks such as the GRNs have typically been monolithic deployments with little to no vendor diversity from the radio access network all the way through to the core switching and applications space (e.g. consoles, digital voice recorders, location services).
PSMB adoption and integration represents a once-in-a-generation opportunity to alter the landscape by providing new open standards-based "on-ramps and off-ramps" for essential voice and data services using the MCX and TIA standards, opening industry opportunities for new application deployments while providing individual PSAs with greater control and independence in regards to the best solutions available for their particular agency requirements.
Etherstack plc CEO, David Deacon, will talk about the latest international deployments of PSMB solutions and will be joined by Khalil Habash, Account Director of Nokia Australia, who will talk about Nokia's integration of their 3GPP standards-based MCX solution with Etherstack's LMR-IWF (InterWorking Function) on the NSW PSN as part of the Australian National PSMB Proof of Concept.
———————————————————————————————————————————
Consensus for change | 1:30 pm-2:00 pm
Presented by: Darren Tuohy | Principal Consultant | Motorola Solutions
The extraordinary conditions of the global health crisis have made two things very clear—safety is now seen as a collective responsibility across public safety agencies, industry and society. Secondly, that technology can play a far greater role in keeping us safe.
The research also discovers how the pandemic sparked high-velocity innovation for public safety agencies and businesses, especially in the areas of cloud adoption, video usage and interoperability between disparate organisations and systems, while reconfirming the need for reliable and resilient communications. The global study reveals that trust and transparency between the public and safety providers has become critical to ensure the success of technology acceptance and adoption. Citizens need to know the technology keeping them safe is being used in ways that are inclusive, fair and transparent. With the consensus for change now at historic levels, the question is not when, but how to make our world safer through technology.
The speaker will present a summary of recent research that has led to a changing landscape in the use of technology in providing public safety solutions
———————————————————————————————————————————-
Using LEO satellites to supercharge your mobile connectivity | 2:00 pm-2:30 pm
Presented by: Graham Tait AFSM GIFireE | Mesh Solutions Lead | Hypha
Mobile broadband connectivity has been the domain of cellular networks for government and private users alike, but the availability of Low Earth Orbit (LEO) satellite systems is changing the way we think about comms on the move.
This talk will look at how the blending of cellular and LEO satellite systems is helping to empower on-the-move communications and provide a real broadband solutions for business, agriculture and government users, and how you can now have reliability and bandwidth wherever you are.
———————————————————————————————————————————-
Building a critical communications community | 2:30 pm-3:00 pm
Presented by: Roger Kane | Co-Chair | Australasian Critical Communications Forum (ACCF)
As competition for resources such as spectrum, finance and talent (intellectual capital) continues to grow, the magnitude and importance of return will continue to be a key driver of allocation. Rather than acting as a series of industry verticals, the Critical Comms community has the opportunity to increase its attractiveness to commercial operators and regulators alike by driving collaboration, standards and interoperability.
———————————————————————————————————————————-
Efficient Site Design | 3:30 pm-4:00 pm
Presented by: Michael Peacocke | Business Development Manager | SAT Pty Ltd
The greatest spend in establishing new mobile radio/telecommunication sites is invariably in the real estate. In particular, access, civil works, and the establishment of tower/building structures and buildings and power. Experience shows that this can equate to >90% of the capital cost. So why is this part of the project so often poorly considered in our build of radio infrastructure projects?
This presentation deals with some lessons learned, oversights and pitfalls in establishing sites and some future strategies and building checklists to capture fundamentals of what we need.
Presentation outline:

Regulations governing site builds
Concept of right sizing
Number of sites growing
Concept of the value of a site and tower in real estate terms
Building site and tower structural survey databases
Practical trumps theoretical
Impact of increasing regulation (tickets, inductions, grinding pegs off, fencing)
Increasing environmentalism (managing aesthetics, radiation to public)
Checklist for site surveys
———————————————————————————————————————————-
Is LoRaWAN a viable option for critical messaging? | 4:00 pm-4:30 pm
Presented by: Brad Welch | General Manager, TPL Systems Asia-Pacific and Rob Zagarella | CEO and Co-Founder, NNNCo.
Over the last 50+ years there are many various ways critical messages have been delivered to handheld devices to alert Emergency Responders to critical situations. From the early technologies of Golay, 2-Tone, 5-tone POCSAG and Flex paging, to cellular technologies such as SMS, 2/3/4G data to Smart Phone Apps. All of these have advantages and disadvantages depending on the situational requirement, type of emergency or disaster. In reality, using a combination of these technologies gives the best results for reliability and resilience, meaning messages are delivered quickly to ensure rapid repose when needed.
LoRaWAN is another technology that can be added to this mix and is currently being used by some agencies in Europe. In this presentation we will look at what the possibilities are for using this technology in Australia, what infrastructure is available now as well as advantages and limitations.
Presentation outline:

LoRaWAN Overview—what is it and how is it currently used?
LoRaWAN Networks in Australia
How LoRaWAN can work for Critical Messaging—Advantages/ Disadvantages?
Case studies of how LoRaWAN is being used in Critical Messaging
Summary and questions
———————————————————————————————————————————-
Panel Discussion: The future of critical communications—from narrowband to broadband and everything in between | 4:30 pm-5:30 pm
Hosted by: Chris Stevens, Managing Director, CartGIS
Panel members:
The critical communications landscape has evolved in the last ten years and will continue to develop over the coming years as new and emerging technologies are applied to solve communications challenges faced in various market segments. This panel of experts will explore and discuss where they see the future of critical communications and why.
———————————————————————————————————————————-
---
---
Conference Chair
Chris Stevens

Managing Director, CartGIS

Chris Stevens is Managing Director of CartGIS Pty Ltd, an emergency management, GIS and mapping and communications consultancy company based in Melbourne. Chris has extensive experience in LMR network design, planning and implementation as well as GIS and mapping application design and commissioning.

CartGIS Pty Ltd also specialises in bespoke training and education for the critical communication community. Chris has extensive qualifications and experience in secondary, tertiary and workplace training and education, which, coupled with his communication experience, delivers industry and client focused outcomes.

Chris is also Co-Vice President of ARCIA, and Sub-committee convenor of training and education for ARCIA.
Presenter Biographies
Andrew May

Executive Manager, Spectrum Engineering Australia

Andrew is the Executive Manager of Spectrum Engineering Australia and has been with Spectrum Engineering for 19 years. During this time he has amassed a broad and intimate working knowledge of the regulatory environment and the coordination and licensing requirements for radio services in Australia. He now leads a team of professional engineers who provide licensing solutions to all sectors of the radio industry including the major carriers, government and the private sector.

Andrew holds a Bachelor of Computer Engineering with First Class Honours from the University of Wollongong. He holds accreditation under the Australian Communications and Media Authority to issue Frequency Assignment Certificates and Interference Impact Certificates, and holds Approved Radio Certifier (ARC) status under New Zealand's Radio Spectrum Management (RSM) branch.

Peter Hilly

Director, Spectrum Engineering Australia

Peter Hilly is an engineer and the Director of Spectrum Engineering Australia. He spent the early years of his professional engineering career working for Government, including a five year period with the then Department of Communications, Radio Frequency Management Division, eventually occupying the position of Head of the Spectrum Planning Group.

He left the Department in 1986 to establish Spectrum Engineering Australia as the first independent provider of frequency management services in this country. In 1995 he became the first person to become "accredited" under the new Radiocommunications Act to issue frequency assignment certificates.

Peter has a background of some 40 years of continuous "hands on" experience in spectrum management in Australia and has been involved in this business on both sides of the counter.  He has followed the development of the spectrum regulatory process in Australia over the lifetime of five regulatory bodies since to Post & Telecommunications Department of the late nineteen-seventies and was witness at the birth of the two Radiocommunications Acts, 1983 and 1992.

Peter holds a Bachelor of Engineering degree from the University of NSW, and an MBA from the University of Canberra.

Hamish Duff

Managing Director, Mastercom; President, ARCIA

Hamish is the Managing Director of Mastercom and a founding Director of the Orion Network. A specialist in wide-area radio networks, Hamish has a genuine understanding of the pressures faced out in the field and the role that efficient communications plays to help people every day.

Hamish is passionate about transforming businesses through the application of digital mobile radio technology. With a career in communications spanning more than 30 years, Hamish is skilled in making the complex simple —engineering communication solutions to support the needs of all users—from the control room to the field. A member of the Australian Radio Communications Industry Association (ARCIA), Hamish is highly regarded for his technical competency and in 2009 was awarded an ARCIA technical excellence award.

Simon Lardner

Co-Founder, Challenge Networks

Simon is the co-founder of Challenge Networks, a telecommunications system integrator specialising in the design, build and management of small-scale carrier networks around the world. 

More recently, Challenge has become a world leader in the deployment of private LTE networks for the resources sector. Simon has over 27 years of international experience in the telecommunications industry specialising in mobile network design and implementation.

Dr Paul Elmes

Managing Director (Asia-Pacific), Tait Communications

Originally from the UK, Paul emigrated to New Zealand in 2006 where he worked for Tait Communications as a product manager and principal engineer until early 2010.

An engineer by training, Paul began his career as a research scientist at the UK's Defence Evaluation and Research Agency. During this time, Paul completed a doctorate on the development of novel sonar transducers for the Royal Navy.

Paul has a broad background of experience across both the public and private sectors, holding senior positions in government departments, educational establishments and commercial enterprises.

Paul returned to Tait Communications in 2016 as the Product Line Manager for the P25 portfolio.  Most recently, he was the VP of Product Management, responsible for Tait's global product portfolio.

James Pickens

Chief Digital and Technology Officer, NSW Telco Authority

James Pickens is the Chief Digital and Technology Officer and has been with Telco since July 2022. He is responsible for the cyber security, digital and ICT portfolio, including the engineering, quality assurance and reliability of the state's Public Safety Network (PSN), which is used by emergency services for mission-critical telecommunications.

With nearly 25 years' experience managing a wide range of national telecommunications and IT networks, platforms and systems in Australia and the UK, James brings a wealth of expertise to Telco through analysis improvement, logical decision making and increasing customer digital engagement.

Matthew Wormald

Operational Communications Leader, Fire and Rescue NSW

Matthew's career with Fire and Rescue NSW spans more than 17 years. During his career, Matthew has worked in a variety of roles including as a firefighter in fire stations across New South Wales, Specialised Operations, Education and Training and most recently Operational Communications.

He leads the Operational Communications branch which is responsible for all wireless systems and Triple Zero call-taking and dispatch for NSW. Matthew holds a Bachelor of Engineering (Electrical—with Honours, USYD) and is a volunteer with the NSW Rural Fire Service for the last 20 years in both operational and training capacities across NSW.

David Deacon

CEO, Etherstack plc

David Deacon founded Etherstack in Sydney in 1995 and oversaw the company's expansion around the world including the establishment of R&D offices in New York, Yokohama and Reading (UK).

David's original vision for Etherstack was as a specialist wireless technology licensing company providing underlying technologies for the land mobile radio and defence communications industries. As the company grew, Etherstack branched out into transceiver design, manufacturing and deployment of complete turnkey digital radio networks.

In recent years, Etherstack has developed underlying network components for 3GPP MCX networks and is currently the lead supplier of the LMR InterWorking function for the AT&T FirstNet project in the United States. The company has also been at the forefront of PTT over Satellite solutions and has deployed a P25 over Satellite solution for the Royal Canadian Mounted Police inside the Arctic Circle.

Khalil Habash

Account Director, Nokia Australia

Khalil is an Account Director at Nokia working focused on supporting customers build next-generation mission-critical communications networks.

Khalil is passionate about working with organisations to transform and enhance their operational environments through the application of advanced communications technology. With an international career in Telecommunications spanning more than 25 years, Khalil remains obsessed with supporting his customers to leverage technology to enhance their operations and the life and outcomes of all their users and the communities they serve.

Darren Tuohy

Principal Consultant, Motorola Solutions

Darren Tuohy has been involved with public safety communication for over 40 years—starting as a sworn officer within the Queensland Police's radio and electronics division and, since 1989, with Motorola Solutions in various technical and management roles in locations across Australia and internationally.

Throughout his career, Darren has been instrumental in the sales, delivery, and senior engagement for many of the Australian State-based radio networks, from as early as 1993 with the initial New South Wales GRN, through to the most recent Tasmanian GRN.

With a passion for operational benefits and outcomes, Darren's focus on evolving trends, products and solutions has him playing a key role in Motorola Solutions' strategy for public safety mobile broadband and the critical interoperability with existing LMR networks.

Darren is now a Principal Consultant for Motorola Solutions based in Sydney, Australia, and holds formal qualifications in engineering and business administration.

Graham Tait AFSM GIFireE

Mesh Solutions lead, Hypha

Graham Tait AFSM has recently retired as a firefighter following a 40 year career with Fire & Rescue NSW, including 37 years as a career firefighter and officer. He continues to serve as a volunteer firefighter with the NSW Rural Fire Service where he has been a member for the past 45 years.

During his career, he specialised in the areas of both Rescue and Operational Communications. He was a member of the AUS2 Urban Search & Rescue team for 12 years and has been deployed to various incidents including the Christchurch Earthquake, Japan Tsunami, Vanuatu Cyclone and Indonesian Earthquake as both a rescue team member and communications lead officer. He dedicated himself to the area of operational communications, managing areas including Computer Aided Dispatch, Automatic Vehicle Location, Mobile Data, radio networks and hardware, GIS, and field deployable communications systems.

He has been recognised for his leadership in the Public Safety technology space both in Australia and Internationally and continues to advocate for advances in communications and technology that will provide improvements in safety and efficiency for front line emergency personnel.

Following his retirement from full time firefighting, he has taken up a role with Hypha Ltd to ensure he can bring his experience to the business and can continue to advance technology for the first responder community.

Roger Kane

Co-Chair, Australasian Critical Communications Forum (ACCF)

Roger has extensive management experience within Australia and Asia in technology-related businesses including IT, telecommunications and engineering.

Roger has particular experience in distribution and service related businesses.

As Co-Chair of ACCF, Roger holds a BSc(Physics) from Imperial College London and an MBA from Deakin University.

Michael Peacocke

Business Development Manager, SAT Pty Ltd

Michael is a New Zealand-born communications expert who has spent the last 18 years working with radio link design and SCADA radio systems. Initially gaining experience at 4RF Limited, he now works at SAT PTY LTD.

Since moving to Australia in 2007, he has been actively supporting the critical communications industry by drawing on his comprehensive knowledge base which includes the latest technologies and trends.

Michael is passionate about helping organisations achieve their communications goals through innovative solutions that are tailored to their specific needs. He is an experienced problem-solver and enjoys the challenge of finding the best possible solution for any given situation.

Brad Welch

General Manager, TPL Systems Asia-Pacific

Starting as an Apprentice Radio Technician in Mt Isa, Brad has over 30 years' experience in the critical communications industry including over 25 years' experience in Critical Messaging.

This experience has seen him working for companies such as Hutchison Telecoms (now Vodafone Messaging), Selective Communications in New Zealand, WiPath Communications Australia and now TPL Systems Asia-Pacific. Brad has been heavily involved with providing critical response solutions and support in the Emergency Services and Healthcare markets.

Brad's strength is listening to the customer and their requirements, using his experience to provide the most suitable outcomes to shorten critical response times and maximise the customer experience.

Rob Zagarella

CEO and Co-Founder, NNNCo

Rob is NNNCo's CEO and Co-Founder. A global business leader with a proven ability to translate vision, strategy, technology and innovation into existing and new commercial revenue streams across a range of industries including Energy, Utilities, Telecommunications and Defence.

Rob has been an innovator and inventor in IoT in the area of machine-to-machine sensing, communications, wide area networking and enterprise software and has successfully leveraged those entrepreneurial skills as a leader in start-ups (Australia and USA), University-based commercialisation, and large global corporations including General Electric, Grid Sense and Grid Net.

Rob has a Bachelor of Electrical Engineering. He is also a graduate of Stanford Business School Live-In Executive Program and a Fellow of the Australian Institute of Company Directors. He is also a LoRaWAN Global Ambassador.
---
---
Don't miss this fantastic Sydney conference! Book your spot now >>
*The conference organisers reserve the right to make changes to the agenda at any time and without notice. Please check close to the conference date for the latest speaker program.
Date -
31st May 2023
Location -
NSW Teachers Federation Conference Centre, 37 Reservoir Street, Surry Hills, Australia