Thank you to all who joined us in Brisbane for another great conference!
On Thursday 27th July, ARCIA brought together the QLD critical communications community for a one-day conference and networking dinner in Brisbane.
The Brisbane conference was our third for the year and saw over 60 attending, with the Association's executive team very pleased with how the day ran and with the extremely positive feedback received.
The specialist nature of the radio and critical communications sector, like many others, really does benefit by coming together to share ideas, collaborate and build lasting relationships. ARCIA is very pleased to have had such a fantastic response to what we have delivered in each state we've visited this year. If you missed out, there's always Comms Connect in Melbourne in October, and we will of course be returning next year to the state capitals based on the response this year.

~ Paul Davis, CEO, ARCIA.
Thank you to all of our presenters and to our ARCIA Partners—with your participation and support we can continue delivering these vital events to the critical communications community.
---
QLD State Industry Award Winner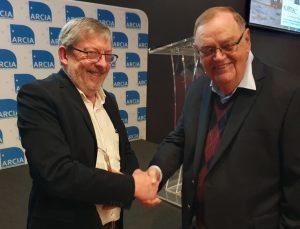 Each year, ARCIA presents a State Industry Professional of the Year Award at the regional events in Perth, Sydney, Brisbane, Adelaide and Melbourne. Individual state winners each receive a trophy and an invitation to attend the Industry Gala dinner in Melbourne, and become the nominees for the national 'Peter Wallace Industry Advancement Award'.
At the ARCIA QLD State Networking Dinner, which followed the Brisbane conference, we announced the QLD State Professional of the Year Award winner. John Whittaker was a very worthy winner of this year's award. Congratulations, John!
A long time member of the industry in Queensland, John was the clear front runner when it came to the nominees. Having so much respect and having delivered for so many customers over the years, those present on the evening weren't surprised when the winner was announced…although John was speechless, which was first we're told!
---
With the close of the Brisbane Conference, ARCIA now moves on to planning for a State Networking and Award Dinner in Adelaide, followed by Comms Connect in Melbourne 17-19 October. It's been a busy year so far and it's been fantastic to again be able to refocus and gather industry professionals and professional communications users together in a number of states. Watching the interactions and hearing from those in attendance, has certainly reinforced the fact that these state-based conferences are needed, and welcomed, with for many this being the one opportunity in the calendar to hear from a gathering of critical communications experts and those who use the available technologies day-to-day.
---
2023 Brisbane Conference Agenda:
Half-day workshop | 9:00 am-12:30 pm
Conference stream | 9:00 am-5:00 pm
---
---
Half-day workshop | 9:00 am-12:30 pm
Workshop: Designing an effective outdoor WiFi network, with 60 GHz backhaul links
Presented by: Shivneet Nair | Regional Technical Manager—Enterprise (AUS/NZ/Pacific Islands), Cambium Networks
The traditional approach to outdoor WiFi design has been using MESH or 5 GHz backhaul links. In this workshop, we will look at an innovative design approach to outdoor WiFi networks using 60 GHz PtMP/PtP (point-to-multi-point and point-to-point) links and how this can help to make networks more scalable and increase the throughput for users. This approach is changing the way smart city WiFi/large-scale public WiFi, and WiFi for mining camps are designed. The workshop will also look at the design of WiFi networks using the spectrum that is now available, as it is not being used by MESH/backhaul networks.
The workshop agenda:
Consideration

 

of

 

traditional design methods that have been used
A look at the new 60

GHz

backhaul design
Design

 

of

 

public

WiFi

using 60

GHz

backhaul
The design

 

of

WiFi

networks using the currently available spectrum
---
---
Conference stream | 9:00 am-5:00 pm
Hybrid LMR/LTE devices bring new life to the LMR market
Presented by: Hamish Duff | Managing Director, Mastercom and President ARCIA
This session will look at how new devices allow users to get the best of both LMR and LTE networks to achieve benefits beyond voice.
———————————————————————————————————————————-
LTE Network security for private networks
Presented by: Simon Lardner | Head of Wireless business—Vocus, Vocus/Challenge Networks
Private mobile (4G/5G) networks are becoming prevalent in the command and control of critical industrial devices and public safety solutions.  As such, the security of systems is becoming a critical design and operational consideration.
This presentation discusses some of the key security considerations both in the design and operation of such networks.  It also discusses how security for private networks compared to consumer networks needs to be approached quite differently. This high-level, relatively non-technical presentation is designed for those who already have or are planning to build a private LTE and wish to understand the key considerations and features associated with security.
———————————————————————————————————————————-
P25: Still relevant after 30 years?
Presented by: Dr Paul Elmes | Managing Director (Asia Pacific), Tait Communications
An objective view of the P25 standard for digital communications. A mature standard by any measure, P25 has become a good case study in user driven standards development and multi-vendor interoperability. The P25 standard continues to evolve and users continue to invest in P25 solutions to meet their current and future communications needs.
This presentation will consider how the standard has evolved over the past three decades—with specific reference to major milestones in Australia and New Zealand.  It will also touch on the growing demand by end users for interoperability with LTE.
———————————————————————————————————————————-
Area Wide Licences (AWLs) in the 3.4–4.0 GHz band

 | 11:00 am-11:30 am
Presented by: Andrew May | Executive Manager, Spectrum Engineering Australia
After much anticipation, the Australian Communications and Media Authority (ACMA) has opened a limited-time application window for wireless broadband spectrum in the 3.4-4.0 GHz band.
Access to the band will be permitted using a relatively new licence type known as an Area Wide Licence (AWL). Applications are currently only being accepted for remote parts of Australia. But plans are underway for a portion of the band to be available for AWL use in regional and metro areas in the near future.
This presentation will consider the AWL Concept, the licensing and device registration process, and the rules that will apply to the band.
———————————————————————————————————————————-
Is LoRaWAN a viable option for critical messaging?
Presented by: Brad Welch | General Manager, TPL Systems Asia-Pacific
Over the last 50+ years there are many various ways critical messages have been delivered to handheld devices to alert Emergency Responders to critical situations. From the early technologies of Golay, 2-Tone, 5-tone POCSAG and Flex paging, to cellular technologies such as SMS, 2/3/4G data to Smart Phone Apps. All of these have advantages and disadvantages depending on the situational requirement, type of emergency or disaster. In reality, using a combination of these technologies gives the best results for reliability and resilience, meaning messages are delivered quickly to ensure rapid repose when needed.
LoRaWAN is another technology that can be added to this mix and is currently being used by some agencies in Europe. In this presentation we will look at what the possibilities are for using this technology in Australia, what infrastructure is available now as well as advantages and limitations.
Presentation outline:

LoRaWAN Overview—what is it and how is it currently used?
LoRaWAN Networks in Australia
How LoRaWAN can work for Critical Messaging—Advantages/ Disadvantages?
Case studies of how LoRaWAN is being used in Critical Messaging
Summary and questions
———————————————————————————————————————————
Harnessing Big Data everywhere: The power of SD-WAN and multi-bearer solutions
Presented by: Neil Jamieson | Group CEO, Hypha
As advancements in satellite technology merge with SD-WAN and WAN bonding techniques, Big Data on mobile platforms is transforming our engagement with remote environments. The question then arises, can we envision a multi-bearer environment as an essential service? In this exploration, we delve into the significance of emerging WAN bonding techniques and their growing importance in powering data applications across Australia's diverse mobility landscape.
Historically, there was a scarcity of mobile applications requiring large data pipes, especially outside LTE coverage areas. As a result, the majority of solutions were concentrated on voice-only options. However, with universal connectivity now possible on mobile platforms regardless of geographic location, there's a pressing need for more application development to leverage this opportunity. The addition of WAN bonding techniques is now essential to mobile data application performance, especially with mission-critical applications that are transitioning between multiple bearers continuously.
We will also delve into the types of applications currently in use and how this new era of ubiquitous connectivity is propelling innovation. What was once a world limited by physical boundaries is now a global village connected by digital highways, and we are just beginning to unlock its potential.
———————————————————————————————————————————-
Efficient Site Design
Presented by: Michael Peacocke | Business Development Manager, SAT Pty Ltd
The greatest spend in establishing new mobile radio/telecommunication sites is invariably in the real estate. In particular, access, civil works, and the establishment of tower/building structures and buildings and power. Experience shows that this can equate to >90% of the capital cost. So why is this part of the project so often poorly considered in our build of radio infrastructure projects?
This presentation deals with some lessons learned, oversights and pitfalls in establishing sites and some future strategies and building checklists to capture fundamentals of what we need.
Presentation outline:

Regulations governing site builds
Concept of right sizing
Number of sites growing
Concept of the value of a site and tower in real estate terms
Building site and tower structural survey databases
Practical trumps theoretical
Impact of increasing regulation (tickets, inductions, grinding pegs off, fencing)
Increasing environmentalism (managing aesthetics, radiation to public)
Checklist for site surveys
———————————————————————————————————————————-
QLD GWN & NSW PSN Interstate Roaming Service: From a random chat to interstate roaming and interoperability between Queensland and New South Wales Public Safety Agencies
Presented by: Nick Ashby| GWN Radio Engineering Expert, GWN Contract Directorate, Department of Transport and Mains Roads (QLD)
Queensland and New South Wales have interconnected the GWN and PSN via the Inter-RF Sub System Interface to provide interstate roaming and interoperability capabilities to their Public Safety Agencies. The service is now known as the 'Interstate Roaming Service'.
This interconnection of the Queensland GWN and NSW PSN is a first in Australia. The introduction of Interstate Roaming Service provides a significant capability uplift to both Queensland and NSW PSAs and addresses a recommendation of the Royal Commission into National Natural Disaster Arrangements (2020).
This presentation will give you an overview of the newly introduced Interstate Roaming Service.
———————————————————————————————————————————-
The Connected Firefighter—Critical communications capability for the 21st-century firefighter
Presented by: Matthew Wormald | Operational Communications Leader, Fire and Rescue NSW
For decades, voice communications have been considered as the 'critical communications' required for effective operations in Fire and Rescue NSW (FRNSW). With the increasing demands for data, perceptions and expectations towards critical communications are changing.
FRNSW has embarked on an extensive Connected Firefighter program of works—to uplift and enhance critical communications across the organisation to provide connectivity to firefighters on the frontline anywhere, anytime. This presentation will outline the program of works, the operational benefits and the future landscape.
———————————————————————————————————————————-
Unified communications—Reducing Western Australia Police Force (WAPF) communication black spots
Presented by: Brett Pearson | Assistant Manager, Radio and Electronic Services, Western Australia Police Force and Steven Walker | Capability and Development Coordinator for the State Communications Division, Western Australia Police Force
Unified Communications begins at the 000 call and ensures our police response is the best it can be, involving 'anywhere' voice and data communications (Satellite/4G/Radio), live-streaming video (Body Worn Camera, Remotely Piloted Air System, other Aircraft, CCTV), real time alerting, deconfliction and big data analytics.
Unified Communications is the integration of voice, video, and/or data services delivered universally across the WA Police network infrastructure, to provide increased situational awareness and effectiveness to the frontline. The end game is to provide officers with the information they need to solve the crime or find the person at risk 'FASTER', involving a multi-agency response where required.

Exmouth Proof of Concept (PoC):
In partnership with Wireless Innovation
Starlink on the move
Installed on two operational vehicles
Integrated voice communications through Harris Technology portables and mobile radios
The use of WAPF smartphones and devices outside LTE coverage areas
Hypha Mesh trial to test the effectiveness of a WIFI mesh solution to extend the range of the vehicle's WIFI range
This PoC will help our Officers to remain connected beyond the Land Mobile and LTE networks to be able to carry out their duties effectively and safely.
———————————————————————————————————————————-
Panel Discussion: The future of critical communications—from narrowband to broadband and everything in between
Hosted by: Chris Stevens | Managing Director, CartGIS

Panel members:
The critical communications landscape has evolved in the last ten years and will continue to develop over the coming years as new and emerging technologies are applied to solve communications challenges faced in various market segments. This panel of experts will explore and discuss where they see the future of critical communications and why.
---
---
Conference Chair
Chris Stevens

Managing Director, CartGIS

Chris Stevens is Managing Director of CartGIS Pty Ltd, an emergency management, GIS and mapping and communications consultancy company based in Melbourne. Chris has extensive experience in LMR network design, planning and implementation as well as GIS and mapping application design and commissioning.

CartGIS Pty Ltd also specialises in bespoke training and education for the critical communication community. Chris has extensive qualifications and experience in secondary, tertiary and workplace training and education, which, coupled with his communication experience, delivers industry and client focused outcomes.

Chris is also Co-Vice President of ARCIA, and Sub-committee convenor of training and education for ARCIA.
Presenter Biographies
Shivneet Nair

Regional Technical Manager—Enterprise (AUS/NZ/Pacific Islands), Cambium Networks

Shivneet is an experienced Technical Engineering Manager with over 15 years of experience within the I.T. and telecommunications sector, designing and implementing networking infrastructure in Australia, New Zealand and the Pacific Islands.

Hamish Duff

Managing Director, Mastercom; President, ARCIA

Hamish is the Managing Director of Mastercom and a founding Director of the Orion Network. A specialist in wide–area radio networks, Hamish has a genuine understanding of the pressures faced out in the field and the role that efficient communications plays to help people every day.

With a career in communications spanning more than 40 years, Hamish is skilled in making the complex, simple–engineering communication solutions to support the needs of all users—from the control room to the field.

Simon Lardner

Head of Wireless business—Vocus, Vocus/Challenge Networks

Simon is the Head of Wireless business — Vocus at Vocus/Challenge Networks, a telecommunications system integrator specialising in the design, build and management of small-scale carrier networks around the world. 

More recently, Challenge has become a world leader in the deployment of private LTE networks for the resources sector. Simon has over 27 years of international experience in the telecommunications industry specialising in mobile network design and implementation.

Nick Ashby

GWN Radio Engineering Expert, GWN Contract Directorate, Department of Transport and Mains Roads (QLD)

Nick has been the GWN Radio Engineering Expert for 10 years and has been with the Queensland GWN since shortly after GWN contract execution in late 2013.

As part of Nick's role with the GWN Contract Directorate, he has responsibilities across the complete remit of functions performed and services provided, and prides himself on bridging the gap between technical and non-technical functions to ensure highest levels of service is provided to GWN agencies and ensuring value for money is achieved for the State under the GWN managed service contract with Telstra and Motorola.

Prior to GWN, Nick worked for Telstra for 10 years in various technical roles in Adelaide and Darwin and has a Bachelor of Telecommunications Engineering.

Dr Paul Elmes

Managing Director (Asia-Pacific), Tait Communications

Originally from the UK, Paul emigrated to New Zealand in 2006 where he worked for Tait Communications as a product manager and principal engineer until early 2010.

An engineer by training, Paul began his career as a research scientist at the UK's Defence Evaluation and Research Agency. During this time, Paul completed a doctorate on the development of novel sonar transducers for the Royal Navy.

Paul has a broad background of experience across both the public and private sectors, holding senior positions in government departments, educational establishments and commercial enterprises.

Paul returned to Tait Communications in 2016 as the Product Line Manager for the P25 portfolio.  Most recently, he was the VP of Product Management, responsible for Tait's global product portfolio.

Andrew May

Executive Manager, Spectrum Engineering Australia

Andrew is the Executive Manager of Spectrum Engineering Australia and has been with Spectrum Engineering for 19 years. During this time he has amassed a broad and intimate working knowledge of the regulatory environment and the coordination and licensing requirements for radio services in Australia. He now leads a team of professional engineers who provide licensing solutions to all sectors of the radio industry including the major carriers, government and the private sector.

Andrew holds a Bachelor of Computer Engineering with First Class Honours from the University of Wollongong. He holds accreditation under the Australian Communications and Media Authority to issue Frequency Assignment Certificates and Interference Impact Certificates, and holds Approved Radio Certifier (ARC) status under New Zealand's Radio Spectrum Management (RSM) branch.

Matthew Wormald

Operational Communications Leader, Fire and Rescue NSW

Matthew's career with Fire and Rescue NSW spans more than 17 years. During his career, Matthew has worked in a variety of roles including as a firefighter in fire stations across New South Wales, Specialised Operations, Education and Training and most recently Operational Communications.

He leads the Operational Communications branch which is responsible for all wireless systems and Triple Zero call-taking and dispatch for NSW. Matthew holds a Bachelor of Engineering (Electrical—with Honours, USYD) and is a volunteer with the NSW Rural Fire Service for the last 20 years in both operational and training capacities across NSW.

Michael Peacocke

Business Development Manager, SAT Pty Ltd

Michael is a communications expert who has spent the last 18 years working with radio link design and SCADA radio systems. Initially gaining experience at 4RF Limited, he now works at SAT PTY LTD.

Since moving to Australia in 2007, he has been actively supporting the critical communications industry by drawing on his comprehensive knowledge base which includes the latest technologies and trends.

Michael is passionate about helping organisations achieve their communications goals through innovative solutions that are tailored to their specific needs. He is an experienced problem-solver and enjoys the challenge of finding the best possible solution for any given situation.

Brad Welch

General Manager, TPL Systems Asia-Pacific

Starting as an Apprentice Radio Technician in Mt Isa, Brad has over 30 years' experience in the critical communications industry including over 25 years' experience in Critical Messaging.

This experience has seen him working for companies such as Hutchison Telecoms (now Vodafone Messaging), Selective Communications in New Zealand, WiPath Communications Australia and now TPL Systems Asia-Pacific. Brad has been heavily involved with providing critical response solutions and support in the Emergency Services and Healthcare markets.

Brad's strength is listening to the customer and their requirements, using his experience to provide the most suitable outcomes to shorten critical response times and maximise the customer experience.

Superintendent Craig Stolte

Executive Manager of the QFES Operational Communications Unit

Superintendent Craig Stolte started his firefighting career in 2002 and is the Executive Manager of the QFES Operational Communications Unit.

This role manages all aspects of QFES's Strategic planning and direction of QFES's Communications networks. The includes as board member of the Government Wireless Network. Craig has been involved with the GWN since November 2013.

Craig has been heavily involved in emergency management over his career including the Queensland/Brisbane Floods of 2011 & 22, large scale wildfires across QLD including 2019/2020 and the majority of cyclones including leading the first deployment of the GWN to TC Debbie. Craig also deployed Internationally as part of the Queensland USAR team and has been involved in many interstate deployments.

Craig has a desire to see a national approach implemented to Operational Communications to address the consistent findings of many reviews around poor communications. Craig is currently the Chairman of the Australasian Fire and Emergency Service Authorities Council (AFAC) 'Operational Communications Sub Group' and was the driving force to initiate the link between QLD GWN and NSW GRN (PSN).

Luke Marchant

General Manager—Government Centre of Excellence (CoE)—Telstra Defence and Public Sector

Telstra's Defence and Public Sector team manages Government customers across Federal, State and Local as well as the Not-for-Profit sector in Australia. Luke is privileged to lead the CoE which is responsible for building Telstra's go-to-market offers and solutions for procurement panels.

The CoE is also continually working with Government to drive innovation which helps transform how they service their citizens. In the last 12 months, the CoE has been focusing on technology trends like Cyber Services and connectivity for operational technology environments. Luke's career highlights include working on programs that have significantly lifted bandwidth per student ratios within Public Schools and Frontline Officer enablement for Police and Ambulance.

Luke is passionate about digital inclusion and has represented Telstra in Federal initiatives such as Mobile Blackspot and Regional Connectivity Programs—these engagements have led to improved connectivity in regional areas across Australia.

Luke graduated from the Griffith University in Brisbane, before completing further post graduate studies at Kingston University, London. Luke has also completed Micro-Credentials in Intraprenuership and Product Management within the last 12 months.

Brett Pearson

Assistant Manager, Radio and Electronic Services, Western Australia Police Force

Brett has been contributing to the telecommunications industry since joining the Royal Australian Navy in 1991. Brett served on Patrol Boats stationed in Darwin and Perth, HMAS Coonawarra, HMAS Stirling and the Submarine Escape Training Facility before leaving The Navy to the join the Western Australia Police Force (WA Police Force) Radio Communication Unit in 2003.

During his time with the WA Police Force Brett has performed several roles including Field Technician, Network Maintenance Supervisor and Assistant Manager. Brett was a key member of the project team that converted the WA Police Regional Analogue Radio Network to a P25 Simulcast Trunked and Conventional Digital Network.

Brett's current role includes management of the installation and maintenance of the WA Police Automatic Number Plate Recognition capability, utilising WIFI networks with satellite backhaul for operational support applications and satellite communications on the move to give frontline officers voice and data communications everywhere in Western Australia.

Steven Walker

Capability and Development Coordinator for the State Communications Division, Western Australia Police Force

Steve has 29 years' experience in policing, having joined the Western Australia Police Force in 1994. He has served in metropolitan police stations, district crime teams, specialist units and regional Western Australia (Geraldton and Broome).

In 2020, Steve joined the State Communications Division as the Communications Division Support Coordinator, where he has developed knowledge of the WA Police radio networks, IT network & telephony systems and CAD Support areas for the co-located Police Operations Centre/Police Assistance Centre based in Midland WA.

Steve is current acting in the role of Capability and Development Coordinator for the State Communications Division, a newly established role to assist the Division with ongoing research, identification, development and implementation of capabilities to enhance call-taking and dispatch across the state.

Neil Jamieson

Group CEO, Hypha Ltd

Neil has been involved with exploring Satellite communications and applications for over 20 years with a specific interest in the Public Safety Sector.

As a founder, and the Group CEO of Hypha Ltd. Neil has been at the forefront of Satellite applications in Public Safety sector in Australia. From simple PTT applications to driving Big Data solutions with new LEO constellations, it has been his mission to explore non-traditional options to solve some of our unique communications challenges in Australia.